Anyone for another round of a computer game hopelessly simulating a real life match? Of course you are. Why else would you be here? We're dipping a toe in the FA Cup for this week, as we simulate Wolves vs Chelsea. I'm predicting Chelsea make a couple of changes, but I think it'll be a team that Antonio Conte will expect to win. To be honest, you wouldn't bet against them winning the double. Anyway, to Molineux!
Except it's not Molineux, PES has 33 stadiums and to the surprise of nobody, Molineux didn't make the cut. So we're at Estadio Urbano Caldeira, which looks lovely, and we'll just ignore the fact that it's in Santos, Brazil.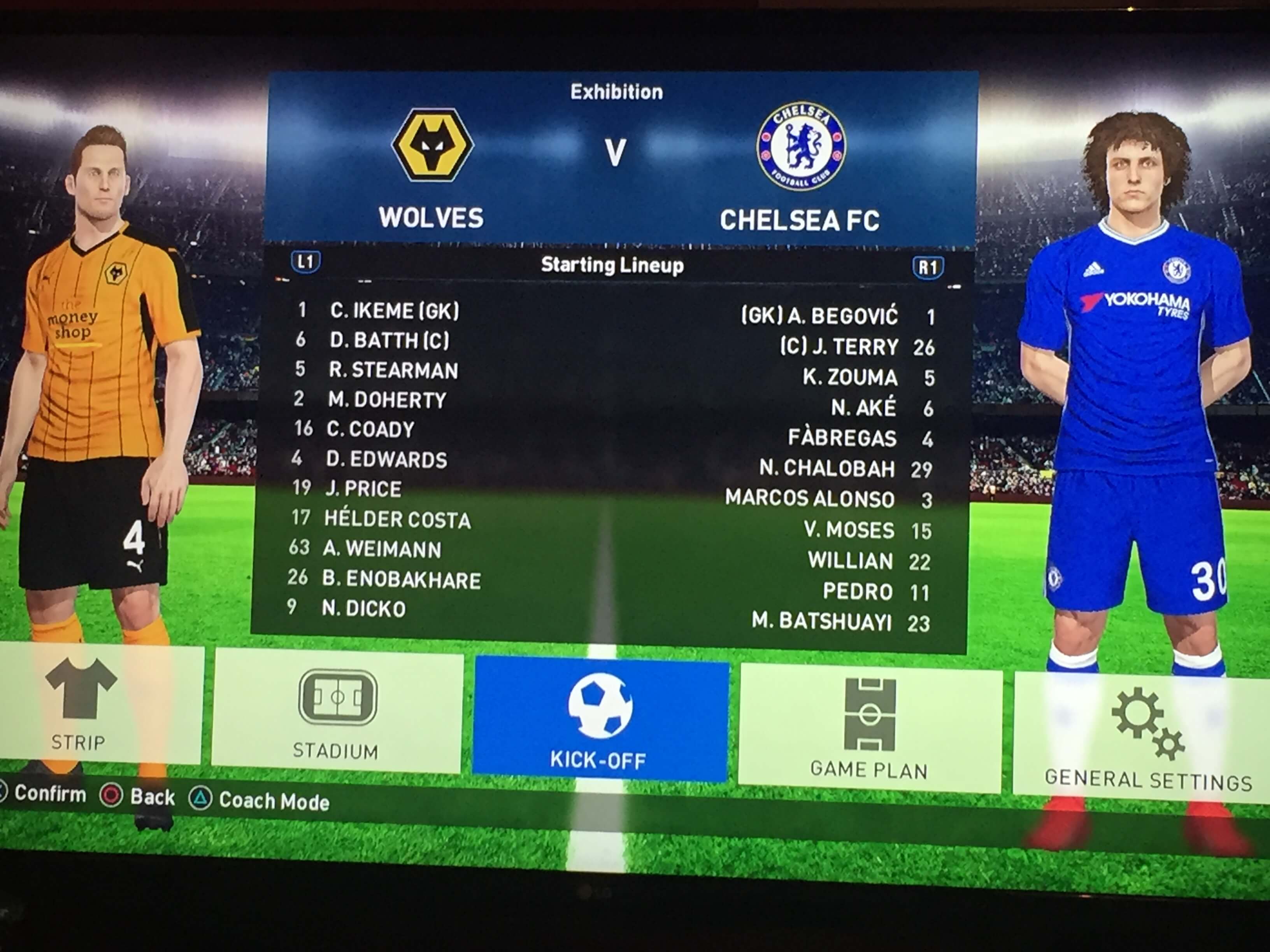 As ever, Peter Drury and Jim Beglin have the microphones and I'm sure they are whipping each other up into a frenzy about possible cup shocks and other such nonsense. Wolves get us underway. Wolves have a free kick 30 yards out but Costa neglects to shoot and actually just gives it away. How stupid. Batshuayi wins a corner but it's catching practice for Carl Ikeme. After 20 minutes of dross, Beglin voices his worry. "There's an impotence about this game that's got me concerned," he mutters. Nobody in the world has ever said that phrase in commentary. Impotence is not what people want to hear about. Anyway, during all this talk of impotence, Wolves nearly score. A low cross falls to Dave Edwards but it's well blocked by John Terry.
Batshuayi is having a terrible game, giving the ball away for about the 10th occasion. However, when Fabregas robs a sleepy Wolves midfielder about 30 yards from goal, even he can't miss when presented the chance on a plate by Pedro. 29 played, 1-0 Chelsea. But HANG ABOUT. Wolves are level immediately through Nouha Dicko. It's a shot inside the box that takes a massive deflection and gives Begovic no chance. Beglin thinks Chelsea were still thinking about their goal and forgot to defend. I wouldn't take that sort of chance with Conte around.
Chelsea have a corner just before half time but for the second time, it's straight into Ikeme's hands. Rubbish. There's even some derision from the (presumably travelling) fans. That's half time. Wolves have had 60% possession and completed 90% of their passes. Incredible scenes. Chelsea have scored with their only shot. Strange game.
Off we go then after some Jake Humphrey nonsense and Chelsea are straight on the attack. Batshauyi knocks down a long free kick and Willian's shot is palmed away. They've had the old Conte kick up the arse. He won't want a replay. Fabregas lashes one over. Wolves bring on Cavaleiro for the disappointing Helder Costa. Chelsea send on Matic for Chalobah and Hazard for Alonso, clearly meaning business.
Wolves are getting tired. They've worked hard but they give the ball away on the edge of the box. Batshuayi volleys over the bar, his last act before being replaced by Costa with 15 minutes to go. Immediately, Costa hunts down Richard Stearman, takes the ball and releases Fabregas. Fabregas finds Pedro, Pedro finds Hazard, 2-1. It's a clinical move and Wolves are going to have their work cut out to get back into this. Ronan is on for Wolves, I don't know who he is.
Ronan scores! He battles into the box, John Terry can't clear and the Wolves number 43 pings it into the corner with just two minutes to go. Scenes at Molineux! Chelsea kick off and it's like that scene in the Lion King with the Wilderbeast, with Dave Edwards playing the part of Simba. Ikeme saves from Fabregas, but Wolves can't get it a way. Willian threads it into the box, Terry tries to side step Stearman who blocks him off. Terry goes down looking for a pen, not given! But the ball falls to Hazard who keeps a cool head and slot in at the near post. Chelsea's bench goes mad. Beglin utters something about needing characters like Hazard to win. Show some remorse for Wolves, Jim. There's barely time to kick off. A scarcely believable game, which is probably why it was played out on a video game.
So there you have it, if PES is to be believed we're in for a real belter this Saturday tea time. Bet against it at your own risk!