Hello! Welcome back for a PES Predicts FA Cup special. They might be the top two teams in the league, but who will have the edge when they clash at Wembley with an FA Cup final place at stake? We ask PES 2017 to find out for us.
Spurs are pretty much at full strength, they have a number of options but with Kane, Alli, Son & Eriksen in great form recently I'm taking the not at all brave approach that they'll play them. Chelsea though are missing Gary Cahill, with a kidney stone. Whilst you all make the same Friends reference in your heads, I'll tell you that I've slotted Zouma into the back three and assumed Alonso will have recovered from the illness that forced him to miss the trip to Old Trafford last weekend. Likewise, Courtois is back in. Let's football.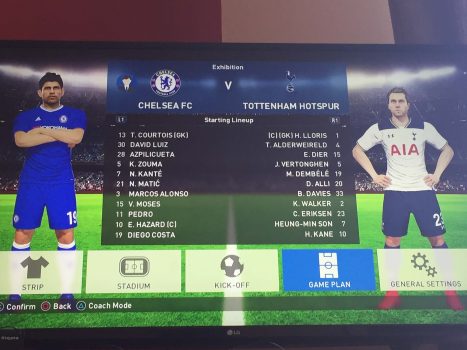 Wembley isn't on the game so we're at the Metropole Arena, which looks a bit like Wembley. There's an arch anyway. Jim Beglin is eager for the action to start, the impatient old bugger. Chelsea kick us underway, captained by Eden Hazard because…I don't know, it seems logical. There couldn't recall John Terry, surely? Anyway, Beglin tells us this will all hinge on Harry Kane. Costa clatters Alderweireld in the opening minute…some things never change. It is Hazard who has the first chance of the game, picking the ball up on the right and cutting onto his left, the mirror opposite of his normal move, but his shot is too close to Lloris who saves it easily. After 20 minutes, that is the only action of note. The BBC are loving it.
Chelsea are on top here, with Costa seemingly having one of his better games where he channels his anger into dispossessing defenders. Spurs are struggling to make openings, which is not like them but then again we are at Wembley. Great save from Lloris! Costa holds it up, plays in Hazard and as he sees the whites of Lloris' eyes, he can only scuff a shot straight at the Frenchman, which he parries away. The corner comes to nothing but it's soon back in the Spurs area. Hazard again should score but a last ditch tackle from Dier puts it behind for a corner. That however, is straight at Lloris as we approach half time. Not a vintage half, but Chelsea are knocking on the door. Spurs have managed one shot that I can't even remember.
Beglin and Drury speculate how long Spurs can survive this Chelsea onslaught before making a change. Probably not long, actually. Costa gets away from Vertonghen with a neat turn but he curls his shot wide of the far post. That's a great opening and a bad miss. You can tell Diego. Tottenham are on the attack but it breaks down when Ben Davies mis-controls. Danny Rose smiles to himself, probably.Oh, Diego. That's another bad miss. Moses and Hazard combine and the captain for the day lays it on a plate for the arriving Costa, but he side foots it wide with Lloris struggling. Goodness me, what is wrong with him today. Hazard with a shot now, parried away again by Lloris. Matic now fires over from the edge of the box. It is coming for Chelsea, so Spurs make the change. Dele Alli is off, and Moussa Sissoko is on. Really?
Still Chelsea come at Spurs. Matic uses his long stride to evade a couple of tackles but his shot is charged down. The corner, as usual, is cleared. GOAL! And it's Marcos Alonso with one of the worst goals I've ever seen. Spurs' defending getting ever more desperate, but a poor headed clearance falls somewhere near Alonso who scuffs a volley into the ground which bounces over Lloris who just can't get to it. I've even recorded the goal for you as it's just so awful. There's only 10 minutes to go.
Spurs are trying to get forward but they can't lay a glove on Chelsea. And now, it's 2-0. Costa gets the goal his all round play has deserved. Kante's ball in takes a deflection, it falls to Costa who spins and on the half volley finds the bottom corner. Spurs' awful Wembley record continues, they might get relegated if they play here next season. That's it! Chelsea are in the final.
So, is that a surprise? On form you'd have to say Tottenham were favourites even if they have been beating awful teams recently. On the day though, they just didn't show up. Chelsea comfortable winners. But don't worry Spurs fans, it's only PES afterall.
PES Predicts: Chelsea 2 – 0 Tottenham