It's time for another PES Predicts! One of the iconic Premier League clashes, Arsenal vs Man Utd has given us many a precious memory down the years but this is slightly different. Man Utd have one eye on the Europa League, whilst the other eye is focused purely on the physio room. Arsenal meanwhile are fighting the tide, needing desperately to win pretty much every remaining game to stand a chance of getting that coveted top four spot. Wenger has a terrible record against Mourinho, and of course that won't be helped by Mourinho more than likely selecting a side to play for a draw. Probably.
Which brings me to the team news. I can't predict Wenger anymore, so I've left his team alone in the 3-4-3 they seem to have adopted in recent weeks. I'd assume he's worried about the pace of Martial against, well, any of his centre-halves so that might help with that situation. Man Utd though, well, I've taken a wild stab at this team and there are some surprise faces in there. I'm backing Mata to start and get an hour under his belt, having made the bench in the last few games. Rooney is back to captain the side, Smalling is back from injury at the heart of the defence whilst Phil Jones is also back from injury to play in midfield, with Fellaini banned and Pogba getting a rest. Whether any of that happens remains to be seen. Who really knows?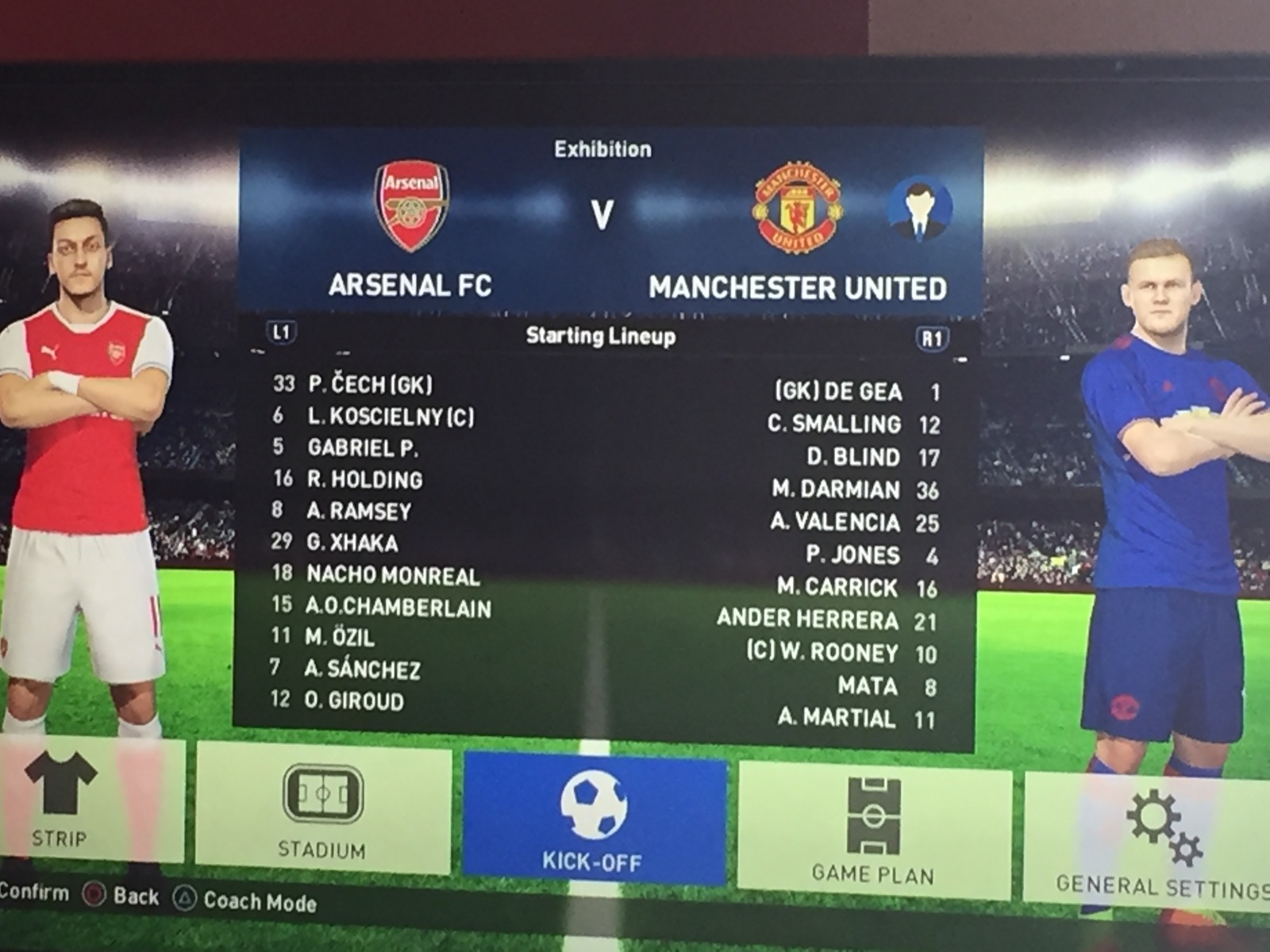 We're at "El Monumental" which looks canny big, and that is my sole reason for picking it, I don't think Arsenal will play their home games in Argentina any time soon but we can only work with that we've got. At least the fans are wearing Arsenal red. Peter Drury doesn't seem to mind, he is very excited. Jim is suspiciously quiet, but no doubt that will change. Arsenal kick us off. Peter goads Beglin into telling us who is the key man today and he rather oddly picks Peter Cech. "There's just no flaws in his game." Right you are Jim. Two minutes in and Giroud has De Gea sprawling to claw away a header. Good save but one for the cameras I fancy. Arsenal back to just passing it about now, Mourinho's men happy to let them have it. Actually Man Utd just keep hoofing it out of play. Mostly Darmian. Silly Darmian.
It's actually gone quite dull, a stalemate in chess terms. Things might change now, Arsenal have a free-kick wide on the right-hand side. Ozil curls it in and it's headed away. It was ambitious to expect anything more from that. Down the other end, tremendous work rate from Martial to win a throw in, but it results in a Mata shot being blocked. Xhaka tries an effort from about 30 yards but that's easy for De Gea. A flurry of action. But oh my, Man Utd are ahead! It's an outstanding ball from Juan Mata, outside of the left foot, round the corner and Rooney has made the run infield from the left wing. He rolls back the years to take it down and drill it low across Cech. The Emirates has gone quiet. More so. Wenger out? That's half time. Beglin says the midfielders have worked tirelessly, and he is given them the credit for Man Utd's lead. That's Phil Jones for you. Let's see if Arsenal can get back into it.
This is a nightmare scenario for Arsenal, having to chase the game against a Mourinho side who will defend as structured and as cynically as possible. Rooney actually has a chance but he takes too long to get it back on his right and he's snuffed out. Arsenal then launch an attack but another Giroud header is easy for De Gea to save. Valencia then gets a long telling off for a fairly innocuous tackle, but no card. Ozil's ball in is met by Koscielny, his header is tipped away and the rebound from Sanchez is also saved. Dave saves! Welbeck is on for Xhaka, I think they've gone to a back four for the last half hour.
A flurry of Arsenal corners cause some minor issues but nothing too drastic. It's all Arsenal with only brief breakouts from Man Utd. Lingard is on for Mata, and Walcott for Oxlade-Chamberlain. Arsenal going for the everyone up front formation I think. On the counter attack, Lingard should really make it 2-0. He meets a Rooney cross with a header from no more than 5 yards and it's wide. Oh Jesse. We're all of a sudden into the final 10 and Rooney has a shot blocked behind for a corner. More time wasting opportunities. Beglin's boy Cech fists it away though. Welbeck! Wide! It's a great leap after Walcott hangs a cross up but he gets too much on it and it goes wide of the far post. What a chance. Will they get another? Yes, but it's barely a chance chance. Sanchez hits a half-volley on the turn, surrounded by three defenders and it dribbles tamely wide. That's it! Mourinho does it again, and Arsenal's top four hopes are in tatters.
So, as Peter wishes us a good evening you have to say that would be it for Wenger's top four hopes, as the people of Liverpool queue up to buy Mourinho a pint. But, fear not Arsenal fans, it is only PES.
PES Predicts: Arsenal 0 – 1 Man Utd