Ah, no topical football issue for me to take the moral high ground on this week so a brief intermission from criticising modern football and "yer da" shouts. The weekend, let's talk about it.
Tottenham beat Arsenal 1-0 and prompted widespread "Power Shift" chat. In the same way that everyone has the Winter Break debate every Christmas, talk of a good ol' North London Power Shift only lasts two weekends a year.
Possibly the most pointless debate in football, after whether diving is morally acceptable or not. What if both teams become really successful and trade league titles for a decade? Is there then a power shift? Is the power shared? Do Arsenal keep the meaningless imaginary power because they had it last? Oh, and don't forget that Spurs are building a new 62,000 seater stadium. It's really important to continuously include that in your argument several times per sentence in case people forget. Arsenal have St. Totteringham's day, Spurs should have Power Shift day.
Arsenal fans don't take any shit though. They certainly know how to defend their club online, better than their team know how to defend real life footballers.
Apparently there's a 'Powershift' in North London. Our worst season in decades and they're only 7 points clear of us.

London was Red, Is Red and always will be Red.

— TheArseneView (@TheArseneView) February 11, 2018
You have to feel sorry for Arsenal fans. I genuinely think they'll finish the season with two trophies, but it's still no fun following the likes of Jack Wilshere and Alex Iwobi up and down the country each week. Just knowing they'll eventually let you down before beating Brighton at the Emirates 3-0, seven days later. Don't worry lads. Only 17 days until March and we all know that's when your season comes alive each year.
What's brilliant about the "Power Shift" term though, is that it is completely exclusive to the North London derby. After all, the Man City wins against United in Manchester since the Arab lads with the tea towels took over, have you ever heard a Mancunian mention a power shift. No, me neither.
Talking about the Red Devils, United had "one of those days" up North. Benitez was surely on the ale Sunday night after beating the old enemy of Mourinho and the Mancs. It was inevitable that Newcastle would get a win over a top-six opponent at some stage this season. Well done to Rafa and his boys for doing the decent thing and saving it for United.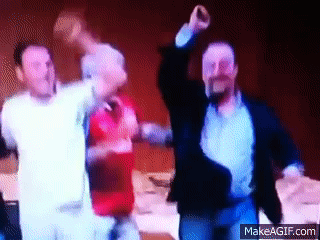 Not much Mourinho bashing going on here though. In a weird way, not much United could've done about that. Every team has at least one game a season, where the opposition keeper turns into the 1963 version of Lev Yashin. Never mind Jonjo Shelvey embodying Frank Rijkaard for the last twenty minutes. It's a shame they'll almost certainly lose 2-1 to Bournemouth next week.
Chelsea are in action tonight against West Brom. Another loss and Abramovich will surely be smashing the "emergency in case of crisis" glass. The Guus Hiddink joke is old and has gotten it's fair share of wear in the last week since Chelsea's collapse at Vicarage Road. But it seriously poses the question what Hiddink must be getting up to in recent days.
Is he tucking into a space cake in a petit Amsterdam cafe, checking his phone once a day to see if big Roman has invited Hiddink onto his yacht for a chat? Or is it more routine at this stage? Maybe he has the flight booked for a realistic arrival date already, let's say March the 1st. In anticipation of Chelsea's approaching defeat to Manchester United in two weeks.
It'd be great to see Roman and Guus' text history. It was 9 years ago yesterday that Hiddink was first given the job on an interim basis. Since then Roman has probably text him once, shortly after Mourinho's sacking in 2015. Never delete phone numbers of reliable mates though, never.
The sacking of Conte by the Russian within the next month is even more likely than Vladimir Putin "winning" this year's Russian election. No power shift in Moscow, but what does it matter anyway. All the best.